Are You Ready To Dig Deeper?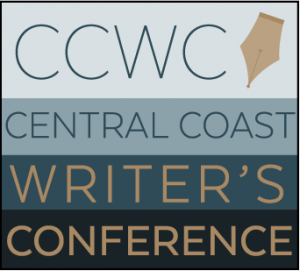 At what stage in your writing career should you attend a screenwriters conference? When you finish your first draft? When you complete a polished manuscript ready to send out to agents and publishers? Or when an idea percolates in your mind, and you've yet to write anything more than a few hand-scribbled notes on a napkin?
The 32nd Annual Central Coast Writers Conference and Book and Author Fair are coming up at the end of the month and we're excited to have you join us this year. Below are some reminders, conference add-ons, and a schedule of events.
Reminders:
FREE Conference parking in Lot 2
The FREE Book and Author Fair will be held on Thursday, September 29
The Conference starts on Friday at 10am for our Opening Keynote with Sam Horn – you don't want to miss it!
Your conference registration includes all workshops, keynote presentations, and dinner Friday night
The campus cafeteria will be open until 2pm on Friday. After that, a coffee cart will have on-campus refreshments available for purchase for the remainder of the conference
Friday and Saturday lunches can be purchased as an add-on for $13
Room numbers for all workshops will be posted online the week prior to the conference
Add-Ons:
Schedule:
Thursday, September 29
Friday, September 30

10:00-11:30am – Opening Keynote with Sam Horn
11:30am – 12:30pm – Lunch
1:00-5:00pm – Writers Bootcamps
5:30-7:00pm – Dinner
7:30-9:30pm – Evening Keynote with Gene Perret, Rob Edwards, Jonathan Maberry, Doug Richardson, Peter Dunne, Anthony Peckham, Nancy Holder, and Wendelin Van Drannen

Saturday, October 1
We're looking forward to another great conference. Thank you for your support!
Questions? Contact conference director Teri Bayus at centralcoastwritersconference@gmail.com.